Farm Fresh
Spring has sprung in the North Carolina mountains, and apart from the beautiful flowers that herald this time of year, it's also a great time to enjoy other popular plants from our region in the form of farm-fresh produce. Asheville and the surrounding area are burgeoning with local farmers and tailgate markets, and spring is a great time to visit one or all of these local markets to get your fresh-from-the-farm fix.
Below are some of our favorite local markets which offer locally grown produce, locally raised meats and cheeses, and even artisan-made crafts.
Western North Carolina Farmers Market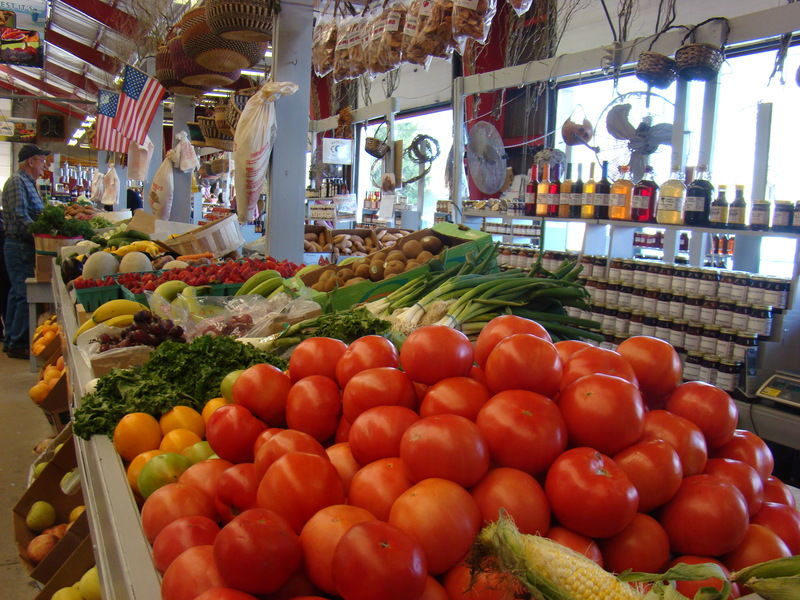 The Western North Carolina Farmers Market is a sprawling complex located just off of Interstate 40 and is a great way to sample much of what our region has to offer. Spend a few hours browsing fresh fruits and vegetables, jams, honey, and local craftwork. Then, grab lunch at the deli. Make sure to also stop by neighboring Jesse Israel & Sons Garden and Nursery Center, which offers a variety of trees and flowers, including a greenhouse full of tropical plants and a 40-foot waterfall.
Asheville City Market
Asheville's largest weekly farmers market is the Asheville City Market. It is held in downtown Asheville on Saturday mornings at North Market Street between Woodfin and Walnut Streets in downtown Asheville. Asheville City Market is a producer-only market, which means that all farm vendors grow, raise, or locally source the products they are selling. Offerings vary with the season—one of the benefits of buying local—but you can count on being able to stock up on fresh produce and locally-made products all year round. Spring specialties include locally sourced ramps, a wild-growing, pungent bulb related to onions and leeks, but with a unique flavor all its own.
NORTH ASHEVILLE TAILGATE MARKET
Located on the campus of UNC Asheville, this weekly tailgate market has just about everything you may need to fill your pantry with locally grown and sourced produce. There are plenty of local farmers, bakeries, seafood vendors, and even a composting worm vendor. A few of our favorite North Asheville Tailgate Market vendors include Barnhouse Kitchen offering packaged and frozen pies and strudels, OWL Bakery and Anna's Pasta & Bakes offering pasta, baked goods, and spices. You can see a full list of the North Asheville Tailgate Market vendors here.
WEST ASHEVILLE TAILGATE MARKET
Welcoming visitors and locals alike on Tuesday afternoons from 3:30 pm-6:30 pm, April-November is the West Asheville Tailgate Market located at 718 Haywood Rd. in West Asheville. The West Asheville Tailgate Market is held rain or shine and you'll find a rotating list of local vendors across a variety of categories, and they even have live music when the weather is nice. Local offerings include a variety of locally grown vegetables, mushrooms, sourdough and other bakery items, fresh pastas, as well as a coffee truck, ice cream, flowers and plants, and locally produced handicrafts. It's a great way to spend a Tuesday afternoon.